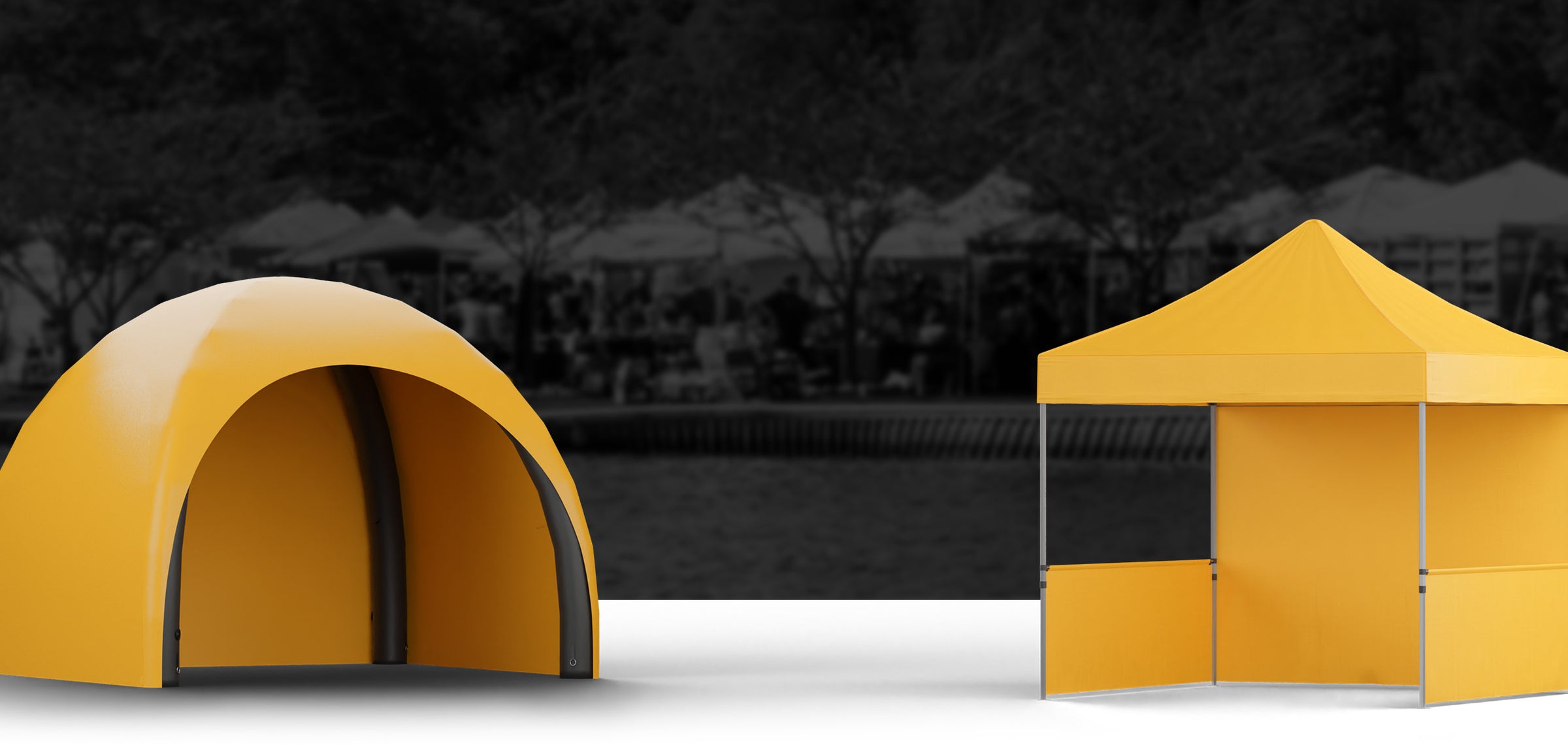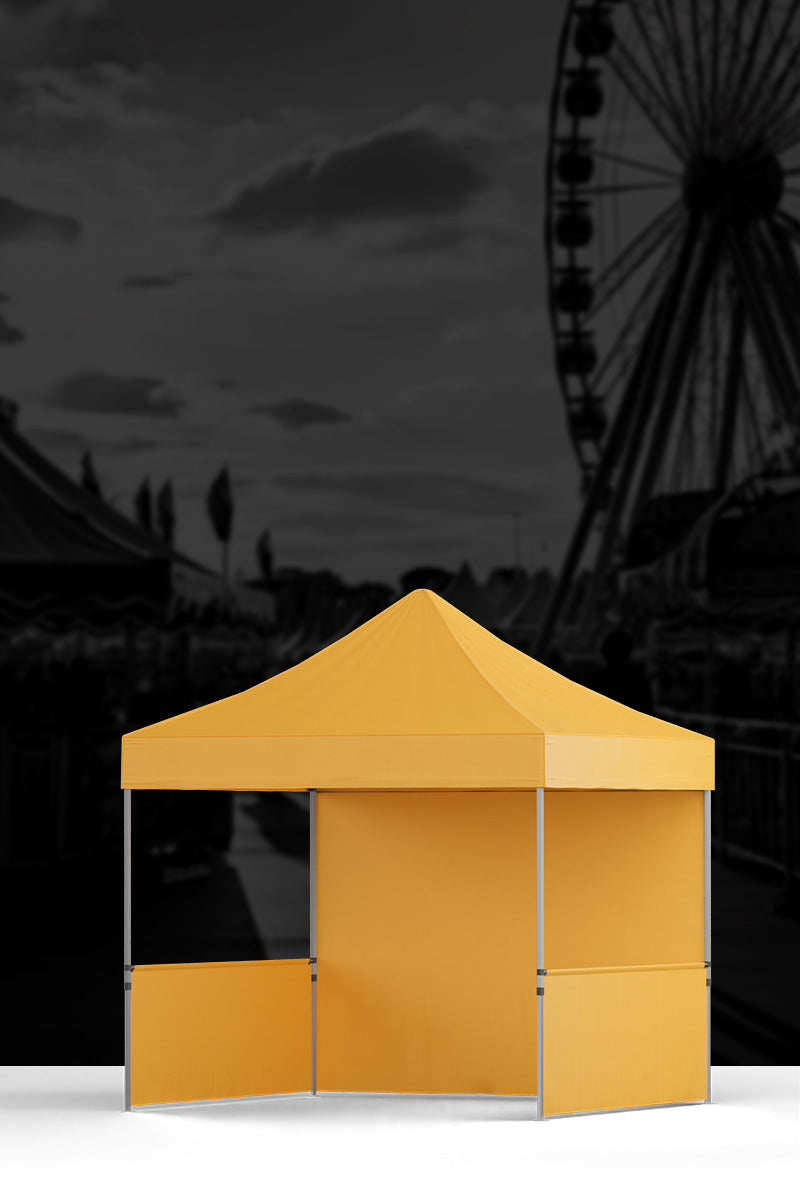 Custom Tents that Demand Attention
High quality and long-lasting. Your next custom tent is here.
Features
Fast Turnaround
When you need it quickly. Ships within days.
Unlimited Customization
Color matching and limitless design options.
All-Weather
UV Resistant. Flame Retardant. Liquid Repellant.
Lifetime Warranty
Frame damage? Our Lifetime Warranty has you covered.
Eye-Catching Custom Canopy Tent You'll Love
Level up your branding with our custom tents featuring your brand's logo! Choose from pop-up canopies and inflatables tents to enhance your onsite advertising and attract more customers.
Elevated Experience for Any Event
The Many Benefits of Branded Tents
Get the word out. Make your brand, message, or team logo stand out with custom tents made-to-order.
Add print, choose your shade coverage, add your logo (or two), and more. Our full color sublimation dye printing allows us to create pristine, full-color branded materials in meticulous detail.
We even have a team ready to walk you through the customization process.
A branded tent offers more than good shade; it's an advertisement that never sleeps! A branded tent captures attention at a busy trade fair or a local community event.
Unrivaled Protection. Easy Setup.
Heavy-Duty Canopy Tents
What good is a tent that can't take a little abuse? Heavy rain, sweltering summers, and winds - our tents have been through it all and still stand!
UV resistant, flame retardant, and liquid repellant, our all-weather custom pop-up tents are heavy-duty and ready to withstand the harshest conditions.
Did we mention they are easy to set up?
Season after season, you can rely on your brand's custom printed canopy tents to represent your unique strength and style.

Draw in crowds and keep your setup protected from the elements. We're trusted by a variety of brands, from LEGO to Six Flags. We stand by our product.
Tradeshow to Open Air Market
Indoor and Outdoor Event Tents
We offer endless possibilities. Our tents are designed to adapt to any setting, whether you're planning a trade show, sporting event, or a simple family gathering in your backyard.
If you're looking for a great tent to set a table under, we're here for you! With an easy setup and tear-down, we want to get you up and running quickly.

Whether you're at an outdoor sporting event or an industry trade show, nothing beats the flexibility and function of our commercial customized tents.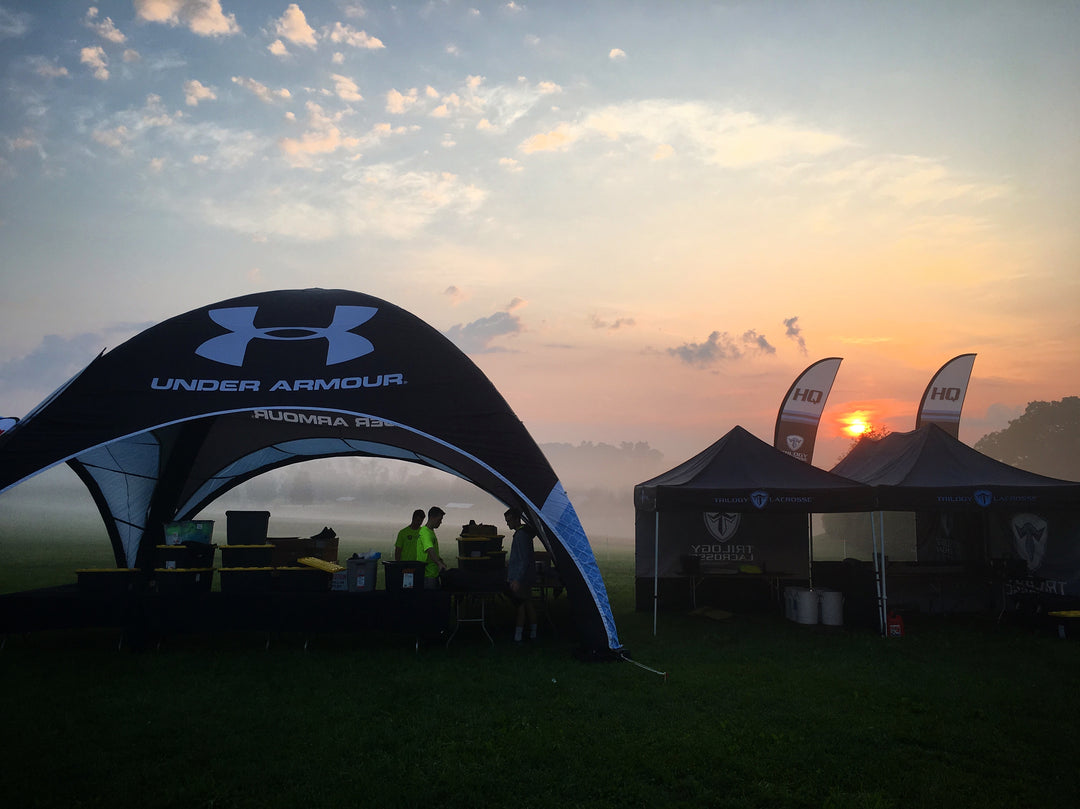 Custom Tents and Canopies
Branded Tents In Every Size
Our branded custom tents and canopies come in different shapes and sizes, tailored to meet your needs. The compact 10 x 10 tents are perfect for small farmers' markets, ready for a few tables.
Need to provide shade for more?
Our 20 x 20 tents quadruple the area. For those seeking a unique flair, our Inflatable Dome Tents are available in three sizes: 10 x 10, 16 x 16, and 20 x 20. These eye-catching options offer a modern twist and ample space for your company or team's print and branding.
Transparent Pricing
How much does a custom pop up tent cost?
Cost of custom tents varies with customization depth and selected options.
As an example, prices can start as low as $899 for a custom 10 x 10 tent. For more customized setups like 1 double-sided printed 10ft side wall and additional half walls (set of 2) with double sided print, prices can reach $1,567 or more. In the 10 x 20 size category, adding unique features like 20 ft side walls or weight bags can bring the cost up to $2,145.

During your free consultation, we'll discuss your budget and your needs to determine the best custom tent with logo option for your brand.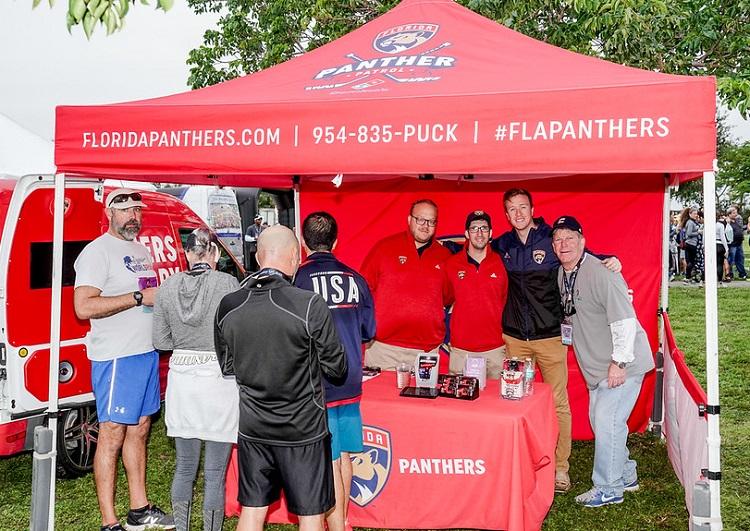 We currently offer 10x10 and 10x20 in stock. If you have a special request for 10x15 or 20x20, please reach out to our service team.
Our top is produced in 600D. The "D" stands for Denier which is a thicker, canvas type material. This material allows high quality and vibrant color matching, regardless of design.
Yes. There are unlimited design and color options on our tent top. The type of design does not affect the cost.
Our custom tents are produced and shipped two business days after your art proof is approved.
There are not. We often produce one tent for a single event.
Yes. Each custom tent includes a branded tent top.
They are unlimited. The tent top begins blank (white) and is dye sublimated with your design.
There are not. The dye sublimation process allows unlimited customization.
Our tent tops are liquid repellant, flame retardant and UV resistant.
Yes we offer full-size backwalls and half side walls for up to four sides of your tent. These can come branded with your logo and can be single or double-sided.
Our custom tents feature a lifetime warranty on our aluminum Forever Flash frame
The price for our custom tents is determined by the size of the tent and if any accessories, such as walls, are ordered.
There are not. The price of the tent includes unlimited customization.
Yes. All replacement parts or accessories can be ordered on our tent accessories page.
Yes. Orders are not put into production until an art proof is sent and approved by the client. Once artwork files are received, we will send over the proof within 24 hours or 1 business day.
After your order is placed and artwork is received, we'll send you a digital proof to approve within 24 hours. On that form, you'll be able to accept or suggest edits.
Before taking down and storing, make sure the tent top is completely dry and folded correctly. This will avoid molding and stains as well as prevent creases and wrinkles when setting up your next event.
All orders ship Priority. Delivery times will vary based on your location.
Yes. Every custom tent includes a roller bag to store your custom tent.
Each of our custom tents is flame retardant.
The canopy top weighs roughly 9 pounds. Our aluminum frame weighs 43 pounds.
A fully customized canopy top, a high strength aluminum frame, roller carry bag, stake and ropes kit.
While it can technically be set up with one person, we recommend two.
You do not, as the tent top will fit into the roller bag with while attached to the frame. However, the canopy top may experience wrinkling and creasing the next time it is set-up for an event.