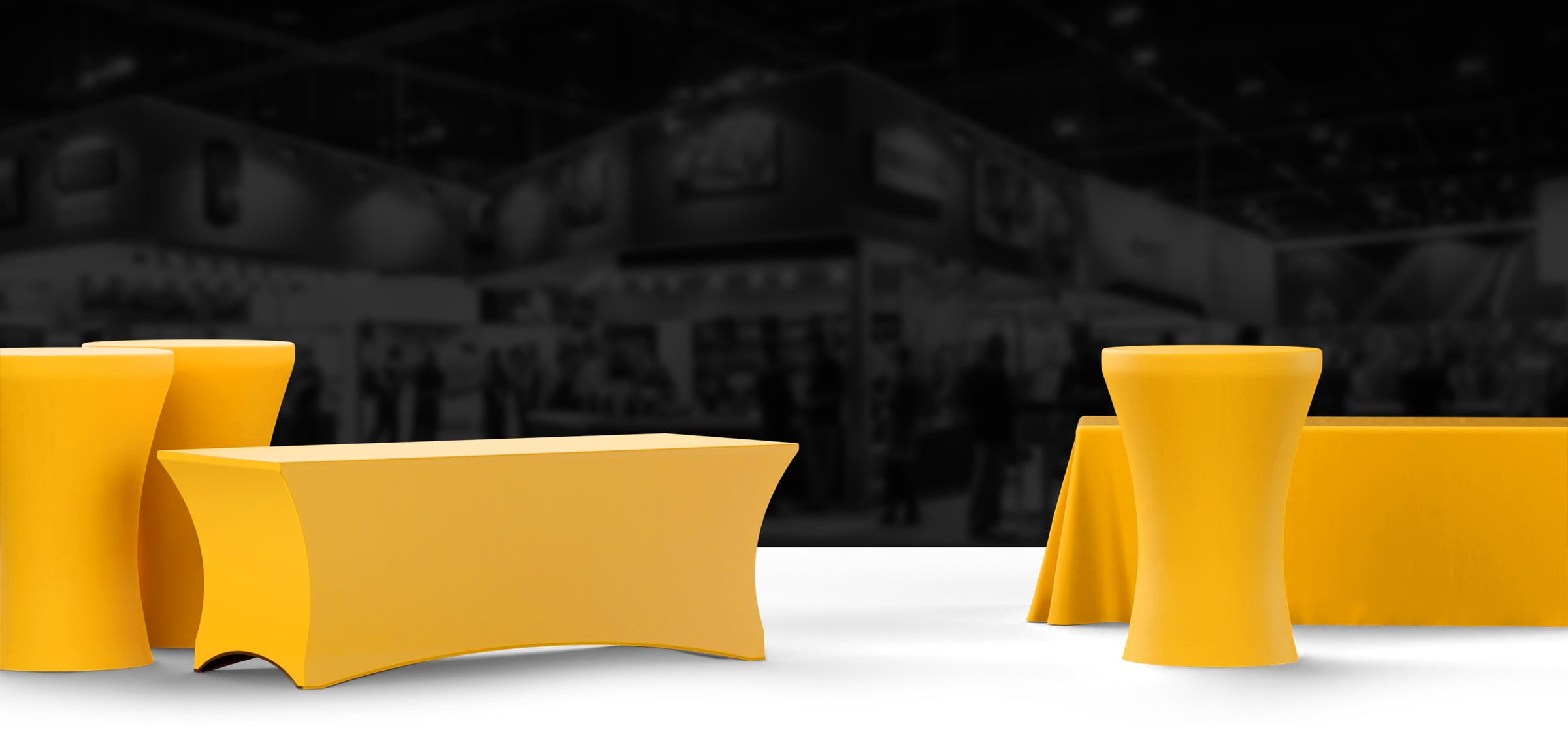 Custom Table Covers with Logo
Unlimited design, FREE setup & FREE shipping. Your next custom tablecloth is here.
Features
Simple Set-Up
From the box to your live event within minutes.
Unlimited Customization
Color matching and limitless design options.
Fast Turnaround
When you need it quickly. Ships within days.
All-Weather
UV Resistant. Flame Retardant. Liquid Repellant.
Custom Tablecloths That Talk: Your Brand, Your Message
At MVP Visuals, we offer a wide range of custom tablecloth options, allowing us to meet the specific needs of your brand within your budget. Customize your options at every step of the way, from choosing the material you're working with to determining how it fits your table, what colors to work with, and even how much branding to showcase.
Prints That Impress
Custom Logo Tablecloths Options
Balancing brand customization and budget is key; MVP Visuals provides two distinct printing options for your custom table covers to meet these needs.
Front Panel Full-Color Printing: We offer unlimited printing on the front panel of your table cover and nearly 50 stock fabric colors to choose from for the rest of your tablecloth. This option is available in polyester or spandex.


All Over Printing: For an even more customized experience, choose printed table cloths with all over print. This choice provides you with unlimited color printing on every square inch of your printed tablecloth. Zero print restrictions allow you to enjoy custom background colors, patterns, images, and more. Anything you can dream of can make an appearance on these versatile custom convention table cloths.
One Size Doesn't Fit All
Custom Table Covers for All Shapes and Sizes
Your brand's representation matters, and so does every inch of your exhibition space.

The Gold Standard in Personalized Table Covers

When it comes to personalized table covers for events, the 'standard sizes' often revolve around tables that are most frequently used in such settings. Typically, a 4ft table (24" width x 4' length x 29" height), 6ft table (30" width x 6' length x 29" height), and 8ft table (30" width x 8' length x 29" height) are considered the norm.

Customization is our Speciality

We understand that sometimes you need something a tad different – perhaps wider, longer, or even a unique shape altogether. At your request, we're fully equipped to craft custom-sized tablecloths that align with your brand's requirements. Whether you need a specific dimension or have a unique design in mind.

Tables Never Looked This Good
From Trade Shows to Local Events: We've Got Your Tables Covered
Whether you're looking for a logo tablecloth to showcase your brand at your next event or a custom-printed table cover that speaks to your company's identity for a conference, we have what you need. Here are just a few samplings of the varieties we offer:

What will it cost you?
Custom Table Covers Pricing
At MVP Visuals, we offer transparent pricing with no hidden fees and will price-match identical products found cheaper elsewhere.
Polyester Table Covers: Starting at $189 for a standard 4ft table. Choose between throw or fitted styles and opt for either an open or closed back at no extra cost. Extra charges apply for all-over prints.


Spandex Table Covers: Available in either 180g or 240g stretch polyester, with prices starting at $209 for a 4ft table. Offers a range of printing and logo customization options, with 6ft starting at $259 and 8ft at $279.


Outdoor Table Covers: Designed for durability and customization, with prices beginning at $209 for the 4ft size. Additional sizes include 6ft for $239 and 8ft for $259.


Convertible Table Covers : This adjustable 8 ft or 6ft throw is perfect for moving between different size tables. Starting at $289, we offer full custom color and logo/artwork.
MVP SERVICE
FREE SAMPLES, DESIGN LAYOUTS, AND DIGITAL PROOFS - ALWAYS.
We're so confident you'll love your customized table cover, we'll send you a free sample.

To make sure you're happy before buying your product, We offer free design layouts and unlimited digital proof revisions. Request stock color samples or a custom 12"x12" swatch with your logo at no cost. For bulk orders, we provide full-size prototypes and volume pricing. Reach our team directly during business hours for personalized service.
When you call during our normal operating hours, you're guaranteed to speak to a team member, not a machine, to help you receive the MVP service you deserve.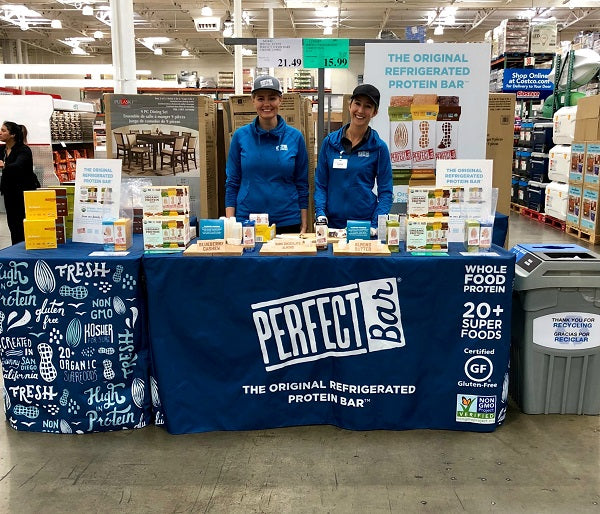 Standard sizes are 4ft (24" x 4' x 29" tall), 6ft (30" x 6' x 29" tall), and 8ft (30" x 8' x 29"). We also offer custom sizes.
Yes. We can create any size table cover. Reach out to our service team or click on "Get a Quote" for pricing.
Our polyester table covers are a 300D polyester. Our spandex table covers are offered in a 180g or 240g elastic polyester.
Yes. All table covers are flame retardant. A liquid repellent coating is available as well.
Yes. Table overs can be purchased with a 1-color print on the front panel, unlimited color and design on the front panel, or a design all over the tablecloth.
If it is standard size folding table, simply measure the length to determine if is a 4ft, 6ft or 8ft table cover that is required.
There are not. We often produce one table cover for a single event.
Yes. All custom table covers include customized artwork.
All table covers can be spot washed. The stain-resistant nature of the table cover depends on the type of material and coating. For example: our liquid repellent table covers will counter potential liquid stains.
All our custom table covers are flame retardant. We also offer a liquid repellent coating as well.
All printed table covers ship in 1 business day after your artwork proof is approved for production.
The pricing for logo tablecloths depends on the size, material, and where the artwork and text is located on the table cover.
Yes. Orders are not put into production until an art proof is sent and approved by the client. Once artwork files are received, we will send over the proof within 24 hours or 1 business day.
There are not. You can print anywhere on the table cover with unlimited colors when selecting the "all over print" option.
Yes you can. Quantity discounts start at seven.
Each of our printed table covers is flame retardant.
All orders ship Priority. Delivery times will vary based on your location.
Each custon table cover is printed specifically for each client. For this reason, returns are not allowed. If there is an issue due to the production, we will always replace at no cost.
All of our table covers are custom printed in our production facility. We do not offer printing services for external materials.
We do not offer non-printed versions of our covers for purchase.