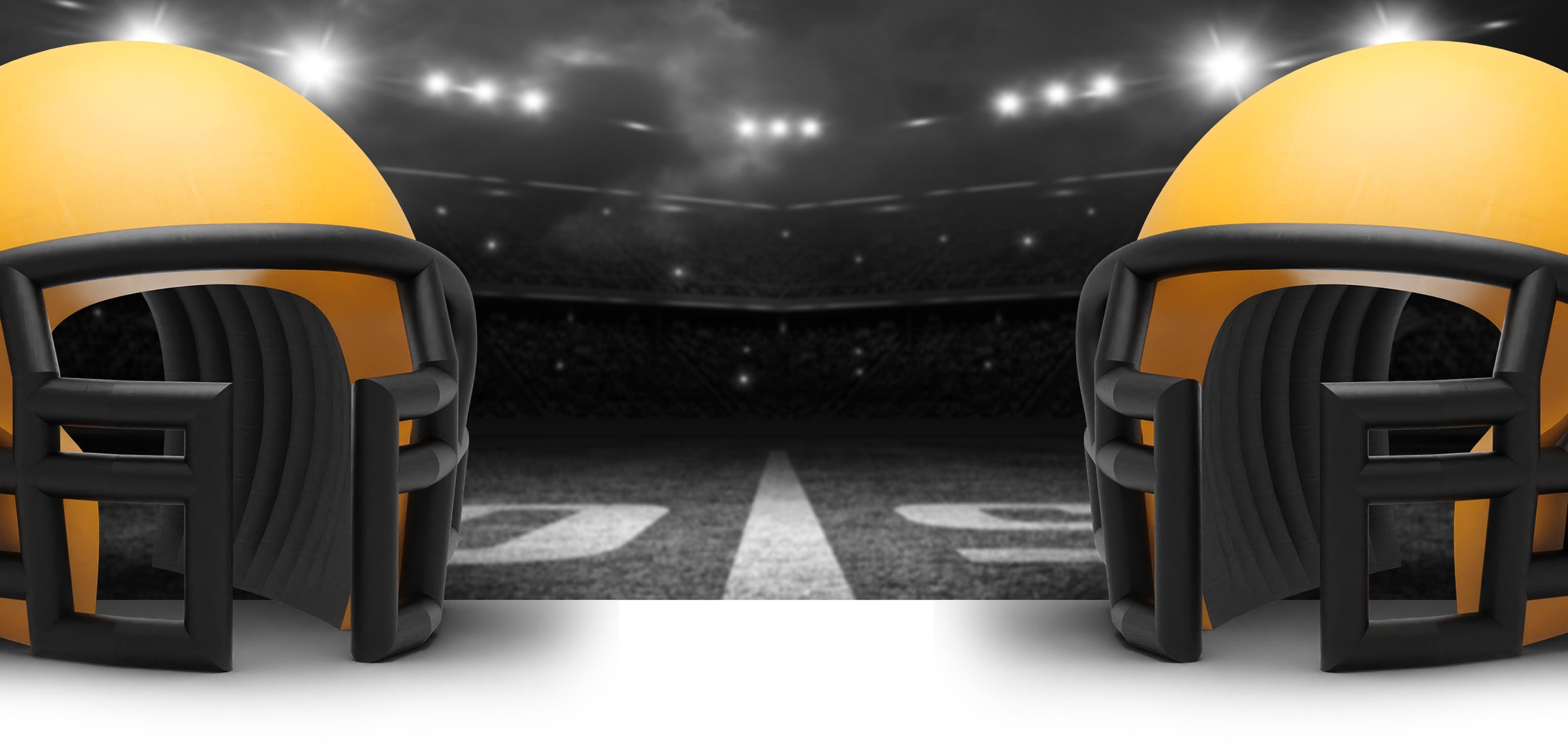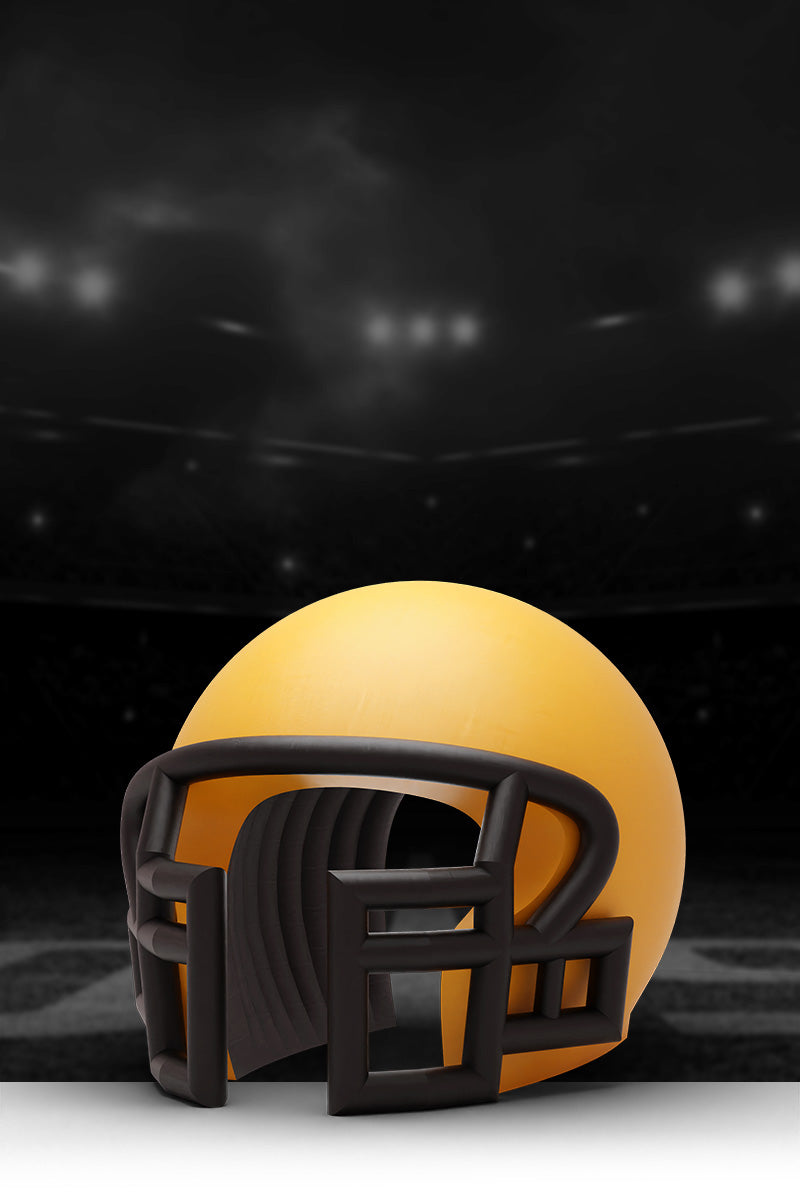 The branding equivalent of a game-winning touchdown. Your next sports inflatable is here.
Features
Fast Turnaround
When you need it quickly. Ships within days.
Unlimited Customization
Color matching and limitless design options.
Platinum Protection
No need to worry. Our Free Warranty has you covered.
Simple Set-Up
From the box to your live event within minutes.
Custom Sports Inflatables for Every Team
These aren't your everyday inflatables. Our sports inflatables are customized to tell your team's story in 360 degrees. Supersize your mascot and blow away the competition. Come to us with your vision, we will take care of the rest.
Game-Time Magic Starts Here
Custom Inflatable Tunnels for Sporting Events
MVP Visuals' custom sports inflatable tunnels do more than lead athletes to the field; they pave the way to an electrifying game-time atmosphere for your fans and serve as a morale booster for athletes.

All our sports inflatables are custom-printed and feature your team's name and logo prominently. But it doesn't stop at branding; you also have the opportunity to monetize these inflatables by selling advertising space on the sides. Include sponsor logos or banners to financially support your team or event.

Key features include unlimited printing options, a choice between constant air or sealed-air structures, and a complete setup kit that includes a storage bag, air blower, and stake kit, all constructed from heavy-duty PVC material.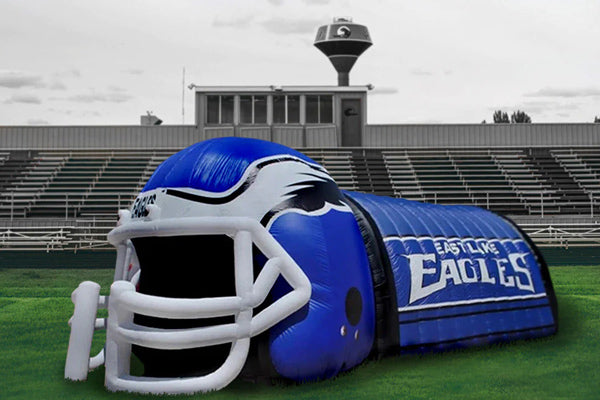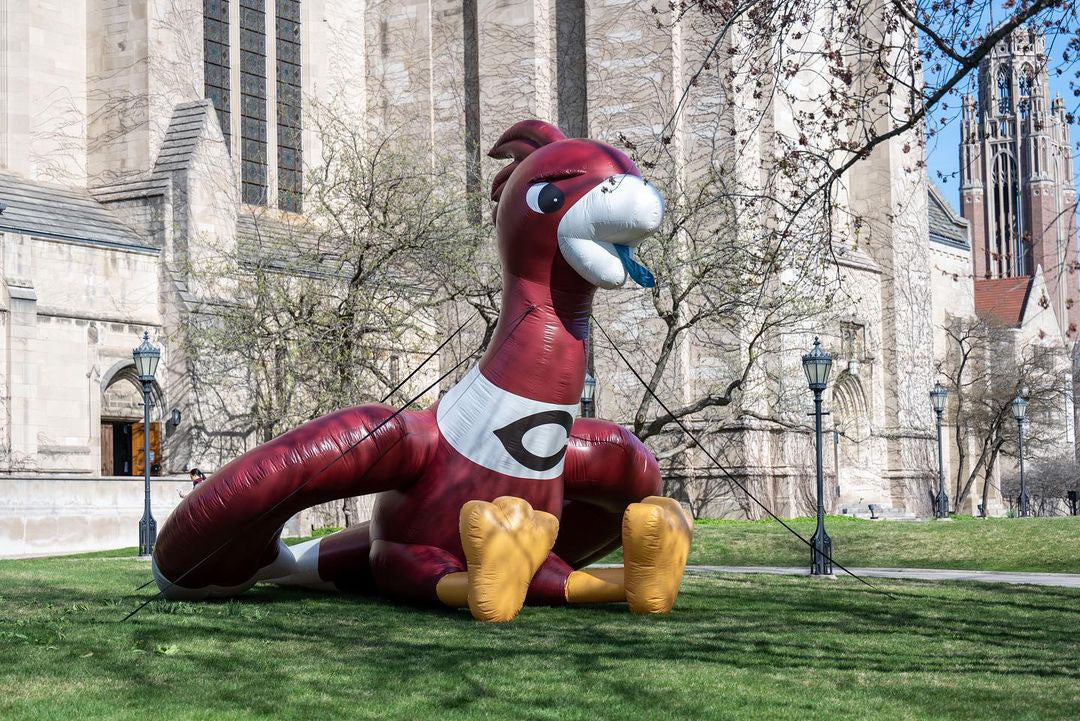 Your Team's Spirit, Super-Sized
Custom Team Mascot Inflatables
If you're looking to amplify the game-day atmosphere and make a lasting impression on both fans and players, our Custom Team Mascot Inflatables are the perfect solution. These inflatables feature a life-size mascot and are customized in your team's colors and logo, lifting fan engagement to new heights.
What sets these mascot inflatables apart is their magnetic pull for fans of all ages. They become an instant photo-op location, where fans love to gather for selfies and group photos, creating lasting memories around your team's brand.
Key Features
Custom colors, logo, and name printing
Durable construction for extended use
Easy setup and takedown
Social media-friendly design for fan engagement
From Tailgate to Overtime
Sports Inflatables Built Like a Linebacker
Prevent punctures, scratches, tears, cuts, and unforeseen mishaps. Our all-weather inflatables mean business. We only use high-quality, durable fabric like Oxford Cloth or Heavy-Duty PVC so fans can enjoy it for years to come.
All our sports inflatables can be built with a lighter but durable 300D or heavier 600D polyester fabric. Both are built tough for any sporting event, indoor or outdoor.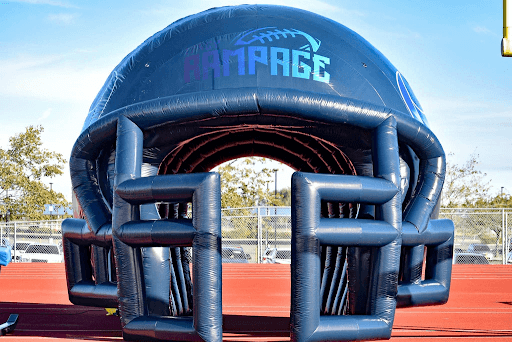 Accessories Included
From Set up to Storage
At MVP Visuals, we understand the importance of a hassle-free experience when it comes to sports inflatables. That's why we provide everything you need for setup and use—all in one comprehensive package. Whether you choose one of our custom inflatable football helmet tunnels, team mascot inflatables, or any other sports-themed inflatables, you can expect the same convenient accessories included:
1. Stake Kit: Secure your sports inflatable firmly to the ground for stability, ensuring it stays in place during the event.
2. Rope: Additional reinforcement to keep your inflatable securely anchored, even in outdoor conditions.
3. Air Blower: Our efficient air blowers ensure quick and easy inflation, so you can have your inflatable ready for action in no time.
4. Storage Bag: After the event, safely store your inflatable and its accessories in a durable storage bag, keeping them organized and protected until the next game day.
Choice is clear
Custom Sport Event Inflatables: Rental Vs. Buying
You might be thinking of renting a sports inflatable for the next season. It's not a bad idea - but here is why you might want to consider buying.
Cost-Effective: Over time, the cumulative cost of renting will surpass the one-time cost of ownership.


Full Control of Customization: When you own your inflatable, you have full control over the design and branding. Every time you set it up, you're celebrating your team.


There when you need it: Owning an inflatable ensures that it's available whenever you need it. You won't need to coordinate with rental companies, worry about scheduling conflicts, or face the possibility of the inflatable you want being unavailable.
Our inflatable tunnels are offered in sizes of 10' and 12'. Our inflatable helmets are produced in a size of 18'x15'. A combined inflatable helmet and tunnel totals 26' in length and 10' in height.
The design options are unlimited as our inflatable helmets and tunnels begin white and are dye sublimated to whatever colors you choose.
We offer two different material types: 300D and 600D. The "D" stands for Denier which is a thicker, canvas-type material. This material allows high quality and vibrant color matching, regardless of design.
Yes. All football-related helmets and tunnels include customized artwork.
Once the inflatable is unpacked and laid out, the helmet or tunnel inflates within a few minutes.
Any type of inflatable must be staked down (if on grass) or held down with ropes and other weight devices if set up on turf or concrete. All helmets and tunnels come with standard D-rings to attach tie-down ropes.
The material is durable against weather and frequent use. It is not puncture-resistant, which is similar to any other inflatable on the market.
There are no limitations to indoor or outdoor. However, all sport inflatables will need to be tied down in a way other than stakes (such as sand or water bags) when used indoors.
The inflatable will require a generator if no other power source is available. The wattage needed for these types of helmets and tunnels is
Yes. Each of our inflatable helmets and tunnels come with a warranty. Our 600D material features a five-year warranty and our 300D material offers a three-year warranty.
It is based on the size of the inflatable and the material. The number of designs or colors is not a factor.
Yes. Orders are not put into production until an art proof is sent and approved by the client. Once artwork files are received, we will send over the proof within 24 hours or 1 business day.
These inflatable football helmets and tunnels are meant to be put up and taken down within minutes (the deflating and folding process does take longer than the initial setup). They also store in a compact carry bag, making it easy to transport and ship to different locations.
Before deflating and storing, make sure the inflatable is completely dry. This will avoid molding and stains on the helmet or tunnel.
We do not offer rentals as these items are fully customized to our client's needs.
There are not. Our material is white prior to production and then is dye sublimated with your custom design and colors.
A discount is applied for any quantity over three.
If you don't have an electrical source at the location, a generator will be required to inflate. All sports inflatables operate with standard a 3-prong outlet or 100 volt 650 watt generator.
All helmets and tunnels are continuous air and require a constant power source.
The difference lies in their denier count, with 600D being thicker and more durable than 300D.
Yes. We can match any Solid Coated pantone color or CMYK value. For further information, please review our artwork FAQ page.
All helmets and tunnels come with standard D-rings to attach tie down ropes. Custom D-ring placement is available upon request
It depends on the size of the helmet or tunnel. Please look at our product pages to show the human-to-tunnel scale.
All helmets and tunnels are fully customizable on the exterior and have a stock black interior. Custom interior printing is available upon request.
Fog machines are not available for purchase at this time.
The helmet with tunnel is one continuous piece. They cannot be separated.
Yes. Custom internal LED lighting is available upon request.
Yes. The shape of the tunnel is customizable. Clients will often add a shape and design at the front of their tunnel that correlates with their logo or mascot.
Yes. When requesting a quote for an inflatable mascot, you will need to provide: reference images of the mascot and the approximate length x width x height required.
Yes. Our custom mascot inflatables are available in continuous or sealed air options.
All of our inflatables are delivered in a durable soft carry bag.