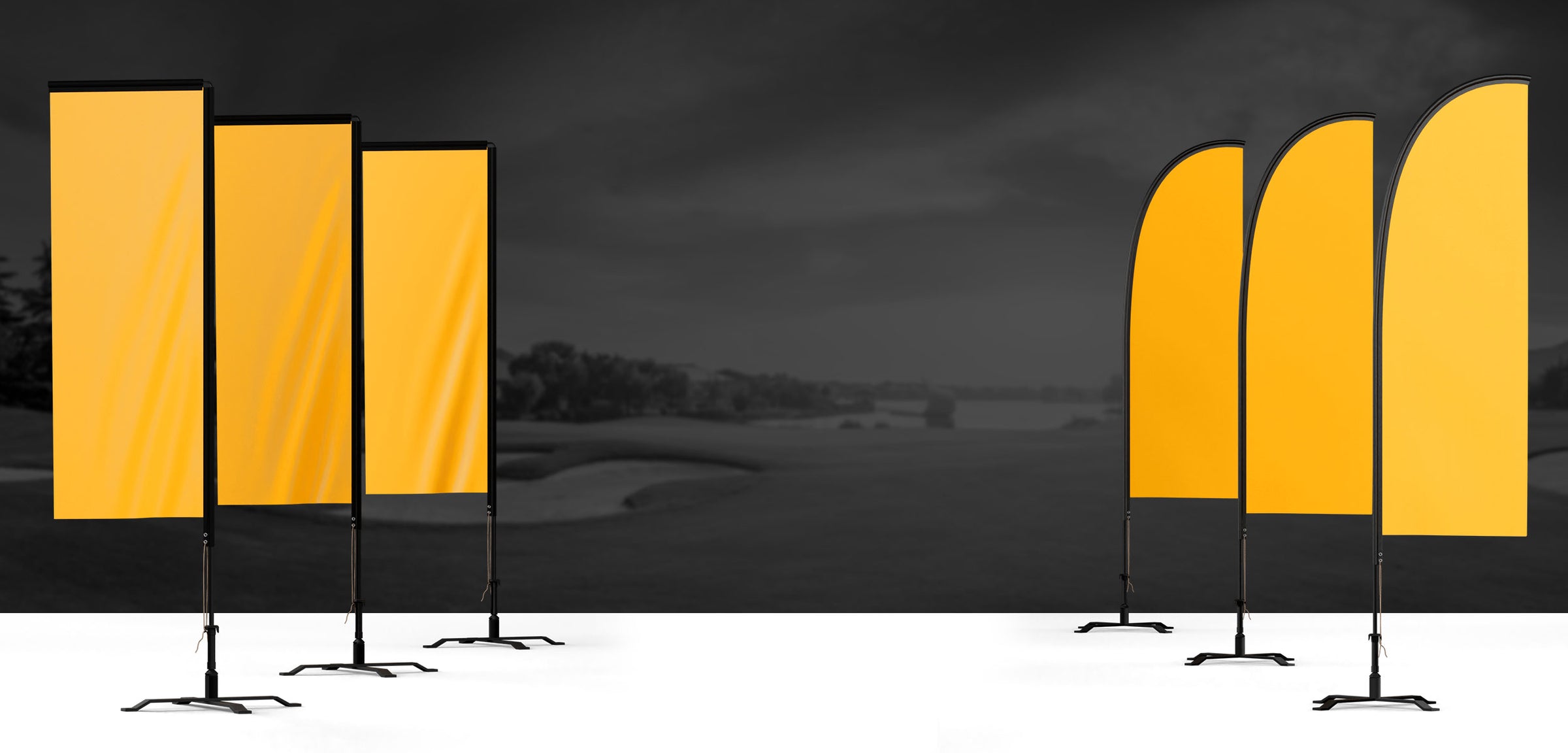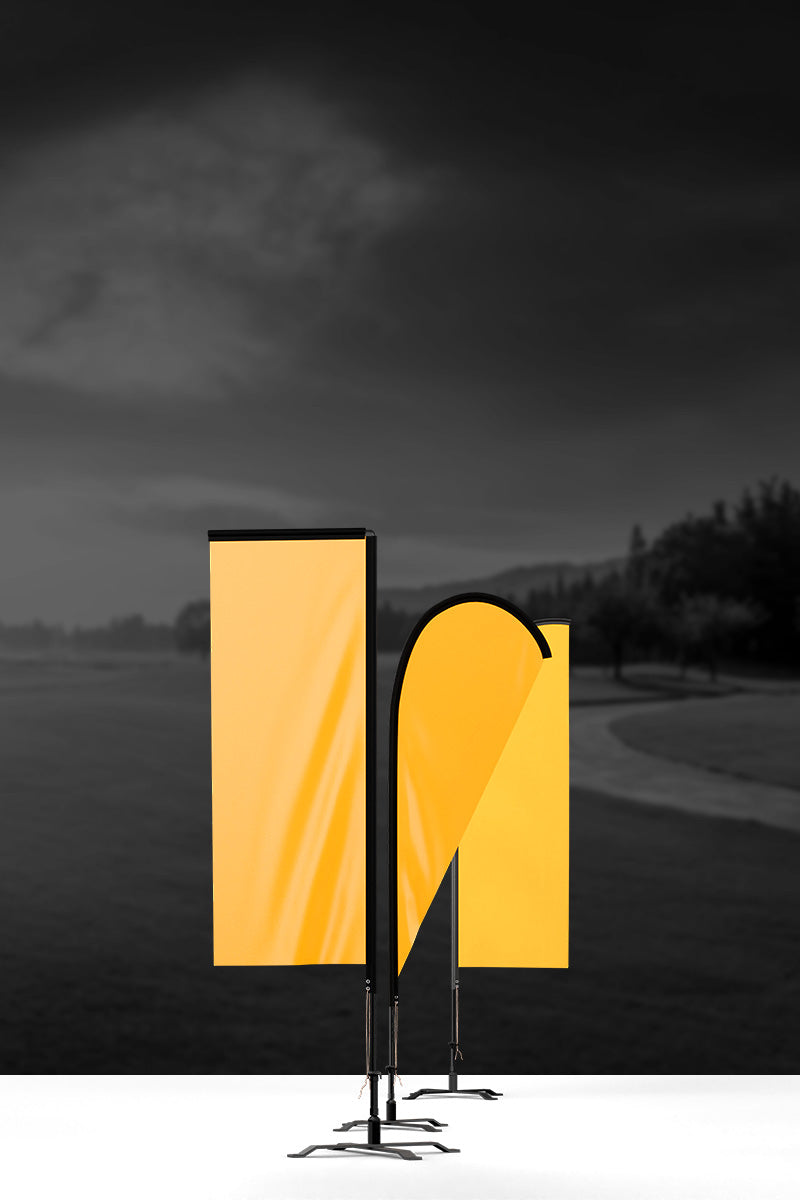 Soar above the competition. Your next custom advertising flag is here.
Features
Fast Turnaround
When you need it quickly. Ships within days.
Unlimited Customization
Color matching and limitless design options.
Simple Set-Up
From the box to your live event within minutes.
Let Your Brand Fly High with Custom Feather Banners
Looking for custom feather flags for advertising? Whether it's for trade shows, churches, or real estate open houses, we've got you covered. Personalize every aspect of your branded feather flags with our flexible choices in sizes, shapes, and printing – the ultimate way to make a statement.
Amplify Your Brand Messaging
Custom Printed Marketing Flags In All Shapes and Sizes
Economy Flying Feather Flag: Crafted for those aiming to make an outdoor marketing impression. Whether it's a bustling street or a grand show, these flags take your brand visibility up a notch. 

Constructed from lightweight, tear-resistant nylon, they offer ease of setup and the promise of longevity. Available in sizes ranging from 9' to 15', you can choose from angled, concave, convex, or straight shapes for that tailored touch.


Teardrop Feather Flag: Aesthetically pleasing and functional to boot. This flag effortlessly showcases your logo and promotional messages. Great for both indoor and outdoor spaces, its unique teardrop design ensures your brand remains the focal point. Crafted from sturdy nylon, you can opt for one-sided or double-sided prints. Available in sizes from 9' to 15', it's not just a flag; it's a statement.


Vertical Feather Flag: Aim sky-high. Our vertical flag offers a straightforward, towering presence. Place it on a busy roadway or within an event space, its vertical design ensures it stands tall and dominant. Supported by a robust frame of aluminum and plastic, it promises stability and resilience.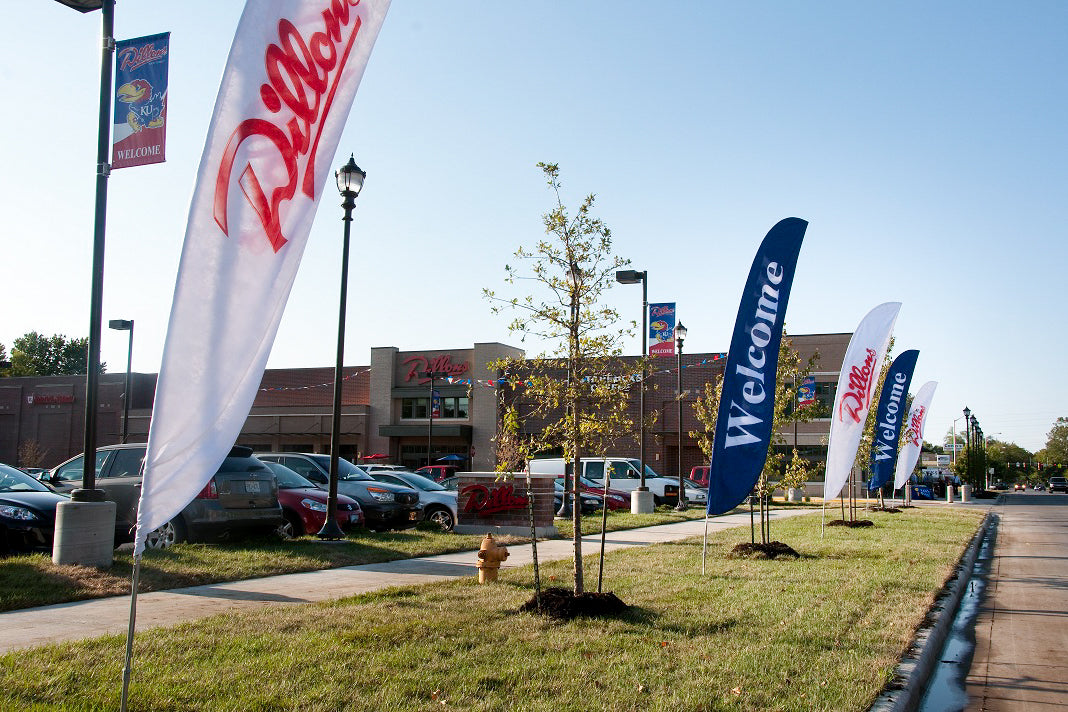 Durability Meets Flexibility
Advertising Flags and Banners That Last
All our flags are fabricated from 110g knitted polyester. This material selection is rooted in its scientifically-proven attributes:
Durability: The 110g weight specification offers optimal thickness for prolonged usage while minimizing wear and tear.


Color Retention: Due to its intricate knit pattern, polyester can hold dyes effectively, leading to longer-lasting vibrant hues. This is pivotal for flags, which are subjected harsh elements


Cost-Efficiency: Knitted polyester offers a premium feel and performance without the associated high costs of some alternative materials.


Low Maintenance: Requires minimal maintenance, allowing you to focus on your event without worrying about flag upkeep.
Eco-Friendly: Made from polyester, which is a recyclable material, making it an environmentally responsible choice.
Your Canvas, Your Brand
Custom Flag Signs for Businesses
Bored of seeing the same feather flag designs everywhere?
Us too. 
That's why we champion customization. From double-sided feather flags with poles to custom logo flags for businesses, we provide unlimited colors and designs. Using advanced printing techniques, the color stays vibrant and doesn't fade.
Choose from unlimited colors & styles, upload your logo, images. The options are endless. Why limit your branding when the sky's the limit?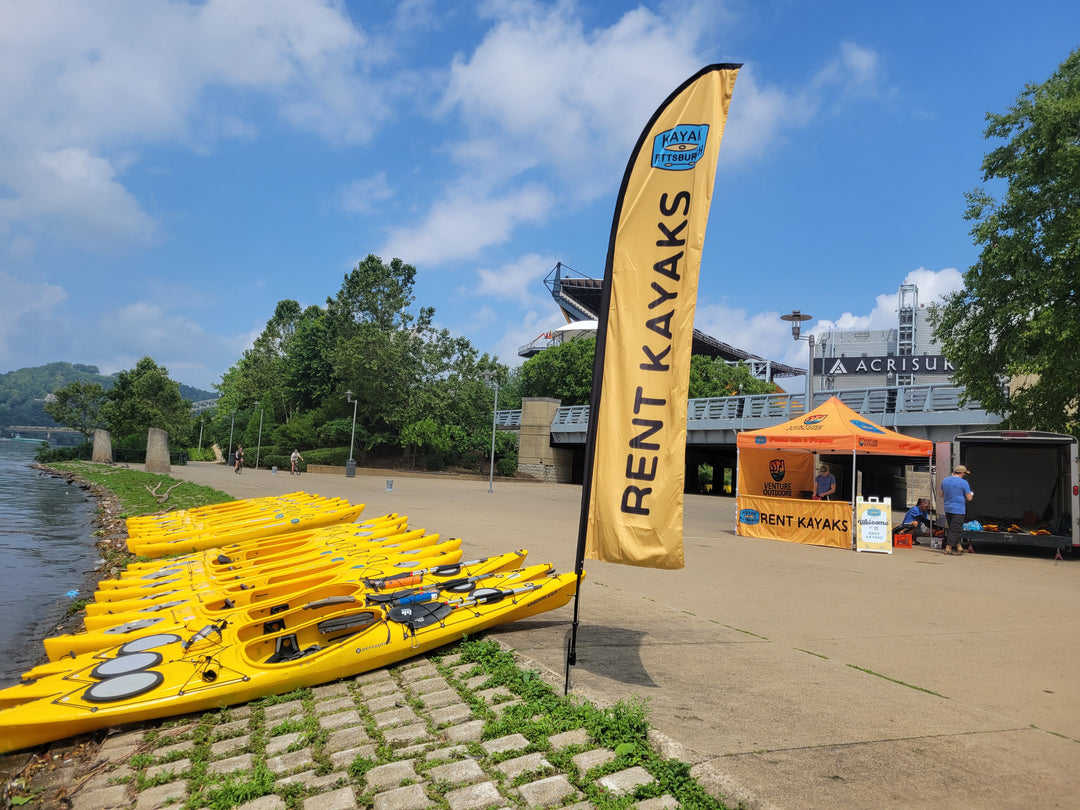 Indoor & Outdoor Ready
Custom Feather Banners for Your Next Big Event
At MVP Visuals, we understand that every business event is unique and demands attention. That's why our custom feather flags are designed to be the perfect solution for a wide range of occasions.
Trade Shows: Stand out in the crowded world of trade shows with eye-catching custom feather flags that display your brand message and logo with style. Capture the attention of potential clients and partners effortlessly.
Festivals: Create a festive atmosphere with colorful and vibrant advertisement flags. Make your presence known at local festivals, attracting visitors to your booth or event space.
Real Estate: Increase the visibility of your property listings with our real estate custom-printed flags. They're a must-have tool for drawing attention to open houses.
Restaurants: Attract diners to your restaurant with captivating custom flags and banners. Showcase your menu specials and promotions or make your establishment more inviting.
Team Events: Show team spirit and unity with custom-designed flags at sports events and team rallies. Let your team colors and logos fly high.
Anchoring Excellence
Securing Your Message, One Flag at a Time
The strength and longevity of your advertising flags hinge upon a robust base. We understand the nuances behind different flag displays and offer two sturdy base options:
Ground Stake: Tailored for outdoor flag banners, especially feather banners, this base excels in areas with soft terrain like gardens or beaches. If you've got feather flag designs in mind for festivals or as church flags, this option promises steadfastness even in strong winds.


Cross Base: An epitome of versatility, it's perfect for those double-sided feather flags at trade shows or custom logo flags at sports events. Suitable for both indoor and outdoor settings, it's especially apt for surfaces like tiles or indoor floors. Ideal for marketing flags, pennant flags or promotional flags. While it stands its ground, in high wind situations, we include a flag pole holder clamp to add extra security.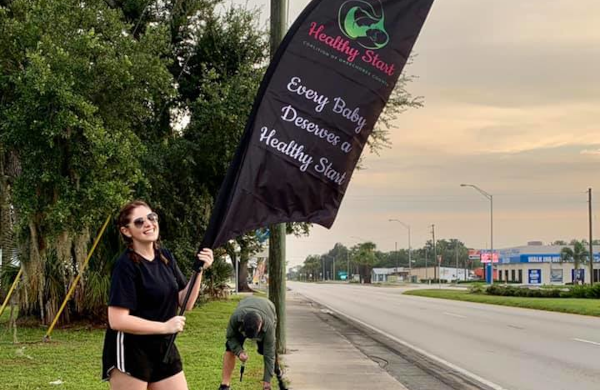 The pricing is based on the size of the flag, the base you choose and whether or not you have printing on one side or two.
Our standard production time is 1-2 business days after your art proof is approved.
Yes. Orders are not put into production until an art proof is sent and approved by the client. Once artwork files are received, we will send over the proof within 24 hours or 1 business day.
Before taking down and storing, make sure the flying flag is completely dry and folded correctly. This will avoid molding and stains as well as prevent creases and wrinkles when setting up your next event.
Our flags are produced in 110g Knitted Polyester. All bases are high-grade steel.
These flags are meant to be outside and in the elements. Our double-sided flags are the most durable option we offer.
Yes. We can also ship flags out to separate locations from the same order.
All orders ship Priority. Delivery times will vary based on your location.
Yes. Our advertising flags are meant to be set-up and taken down in a few minutes.
Yes. All replacement parts or accessories can be ordered on our flag accessories page.
Print options for our flags are unlimited. You can have as many colors or designs as you'd like, all for the same price.
There are not. Our customers often purchase a single item for an event.
We offer two base styles: ground stake (for outdoor use on grass) and cross base which includes a water bag (for indoor or outdoor use).
Yes. Specific intructions will be included in every order. Set-up takes a few minutes with just one person.
Yes. There are no limitations to indoor or outdoor. However, the flag will need to be tied down in a way other than stakes (such as a cross base) if used inside.
Absolutely. Most customers add a logo specific to their advertising flag.
Yes. All flags include customized artwork at no additional cost.
Small at 8.5' in total height, Medium at 12' and Large at 15'. These heights include the use of a cross bar or ground stake.
There are not. Our material is white prior to production and then is dye-sublimated with your custom design and colors.